Aquaculture of the thick-lipped mullet Celon lambrosus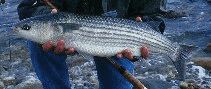 Contact:
Dr. Monika Kock
Project description:
The aim of the funded project is to cultivate the thick-lipped mullet. The mullet has only become indigenous to the Kiel Fjord in recent years. It only feeds on plants and is therefore particularly suitable for sustainable, emission-free and nutrient-neutral marine aquaculture.
Project tasks of CRM:
In addition to project management, CRM will develop methods and technical solutions for the management of mullet in cages. These include monitoring of feeding, observation of the behavior of animals in cages and monitoring of fish health.
Furthermore, CRM will look at the economic prospects of fish farming with mullet.
Tasks of the project partner:
The Fraunhofer Institute for Marine Biotechnology in Lübeck carries out experiments on the reproduction and larval rearing of mullets on a laboratory scale.
Tassilo Jäger-Kleinicke (Kiel salmon trout) will catch adult mullets in the Kiel fjord and keep them in its net cages.
Co-worker:
Dr. Peter Krost, Executive Director of CRM
Dr. Monika Kock, project leader at CRM
Dr. Ronny Marquardt, EMB Lübeck
Dr. Liane-Magdalena Lühmann, EMB Lübeck
Dipl. Biol. Tassilo Jäger-Kleinicke
Co-financing:
Ministry of Economy of Schleswig-Holstein
Period:
January 2014 to December 2015
Project partner
Fraunhofer Einrichtung für Marine Biotechnologie, Lübeck
Fischzucht Tassilo Jäger-Kleinicke ("Kieler Lachsforelle")